(Pictured: Debbie Millman, Sybil Yurman, Frances Bronet, Susan Szenasy)
A discussion all about brand building and career insights. We wanted to share some food for thought from the amazing panel we attended at NYCxDESIGN this past week.
"The long game was bigger than the fear" - Debbie Millman on how to succeed in the business of design.
EVENT SPEAKERS
Frances Bronet, President of Pratt Institute
Debbie Millman, Designer, Educator, Brand Strategist, and Host of the Design Matters podcast
Sybil Yurman, Co-Founder and Chief Brand Strategist of David Yurman
Susan Szenasy (Moderator), Publisher and Editor-in-Chief of Metropolis
Co-presented by Pratt's School of Design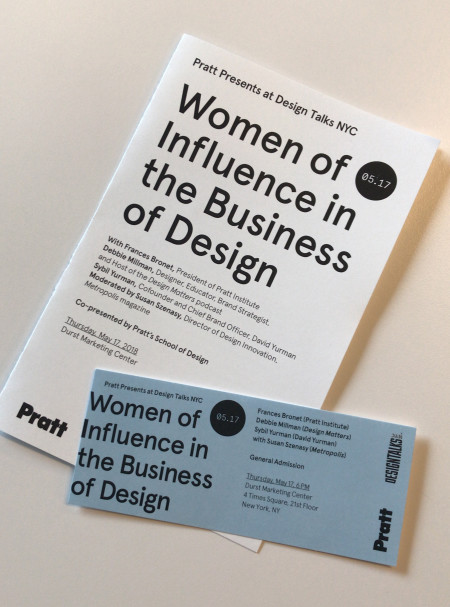 On what it means to cultivate a personal brand:
According to Debbie Millman, brands don't intrinsically exist, they are a manufactured meaning. An audience either believes in them or they don't, and if people are willing to be a brand, they are willing to be manufactured. Humans are happy and sad- we all have ups and downs. Brands are consistent. If you want to be a personal brand you should really consider what that means.
On brand building:
According to Sybil Yurman, building a brand is akin to defining the river that flows through a company. It's something authentic and is a reflection of who you are as a collaboration of artists. You have to create a common language where everyone can create and no one has to be 'right' - you need people to be invested and have fun!
Frances Bronet: We need people that are very deeply disciplined and we need people who can pull it together. You have to figure out how to build a team and to make it meaningful for each member involved and you can't believe that everyone else has the answers.
Advice on starting out in your career:
"Follow your bliss and don't forget to have fun."
"Work harder than everyone else."
"Don't compromise."
"Go after it tenaciously and never whine!"
"If you don't think you are fully ready yet - just know, no one is every fully ready."
"Don't mistake confidence for courage."